For high-quality audio, reliable connections and a system that's just so easy to use…
It has to be ISYS Pro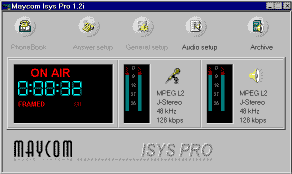 The solution for true broadcast-quality audio
ISYS Pro brings together the MPEG expertise of Philips, the joint developers of the standard, and AVM, the largest suppliers of ISDN terminal adapters in Europe1, to offer perfect audio and reliable connections every time.
ISYS Pro is the only codec currently available that offers Maycom's unique 'auto-connectTM' technology. When you make an ISDN connection, our technology detects the settings required by the remote and configures itself for a hassle-free connection. No settings. No fiddly little buttons. No dip-switches. No Problem.
Designed for speed – and comfort!
When you want to make an ISDN connection, just enter the number into the easy Windows phone-book and press the connect button. Using the exclusive 'auto-connectTM' technology built into ISYS Pro, it detects the type of codec you are dialling and automatically makes the correct settings for you. Ever heard the one about the codec that connects first-time-every-time… that'll be ISYS Pro.
ISYS sends and receives your audio perfectly, at lightning-fast speeds. Typically, an ISYS Pro connection has less than half of the coding delay of other systems. For even more speed-critical applications, use ISYS' dual-coding functionality, where transmission quality audio is sent/received using high quality MPEG compression and cue/talkback returns go via G.722
Designed for today's studio technology
Because ISYS Pro is a PC based system, it easily integrates with existing audio production, digital editing and hard-disk playout systems.
ISYS can record audio to disk in the industry standard MPEG or Broadcast WAV file formats so that you can start working with the audio straight away
ISYS can be left to receive incoming audio feeds unattended – helping you work more efficiently
ISYS is ideal for use with touch-screen systems in control rooms or studios
You can even install ISYS in your existing computer network, allowing several studios or production areas access to one or more systems
Remote control facility can even be used from a web-browser
ISYS Pro is designed and built by some of the most experienced ISDN engineers in the world. The system consists of hardware and software in perfect harmony. Coding and decoding is performed by the M20 card, which contains Philips' Musicore chipset, delivering stable and reliable connections. Software on-screen controls, a Windows phone-book and the auto-connectTM technology can all be user-upgraded to take advantage of new facilities and updates. ISDN communications are carried out using the AVM Fritz ISDN terminal adapter, with software-selectable ISDN protocols - so that wherever you go in the world, ISYS Pro goes with you.
1 AVM products are sold as BT Speedway! in the UK

Next Page: ISYS Pro Specifications >>