R
O
A
D
R
U
N
N
E
R
f
r
o
m
M
U
S
I
C
A
M
U
S
A
RoadRunner ISDN Codec
Fast and easy remote audio - on the go!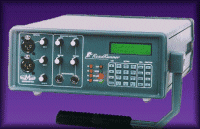 RoadRunner, an economical, compact portable ISDN Audio codec and mixer that lets you send and receive the highest quality monaural audio over a single ISDN phone line.
Included in the RoadRunner package is a three-channel audio mixer with two dedicated microphone inputs and a third input switchable between mic and line levels. Two independent headphone circuits are included, with individually adjustable send and receive levels. Balanced return audio as well as unbalanced local and return outputs are provided for direct connections to your audio equipment. The RoadRunner comes standard with an internal ISDN terminal adapter and integrated NT-1 where required. In addition, the RoadRunner can be used with any of the available internal digital interface modules for use with other digital transmission facilities.
Designed for voice-overs, news, sports and other applications where high-fidelity, broadcast quality audio is required, the RoadRunner delivers 20 Hz to 20 kHz audio with greater than 84 dB SNR when 2 ISDN 'B' channels are used. 15 kHz can be achieved when only a single 'B' channel is used. RoadRunner offers G.722, fully compatible MUSCIAM® enhanced Layer 2 and MPEG Layer 3 algorithms, 24, 32 and 48 kHz sampling frequencies, with connect rates from 56 to 128 kb/s.

RoadRunner Features:
Two front panel microphone inputs and one switchable mic/line input with individual level controls

Two separate headphone circuits with individual local and return audio level controls and stereo headphone compatibility

Balanced and unbalanced outputs for direct connections to all audio equipment without the need for matching circuits

15 kHz monaural audio over a single ISDN 'B' channel using Layer 3, transparent 20 kHz audio using 2 ISDN 'B' channels with MUSICAM Layer 2 or MPEG Layer 3

Fully compatible MUSICAM enhanced Layer 2 makes any Layer 2 decoder sound better, and is more immune to cascading and post production artifacts than any other algorithm

An easy to use speed dial directory that holds over 200 Speed Dial and Quick Configuration entries. Each entry holds all configuration settings and phone numbers necessary.

Pre-loaded Quick Configurations for the most popular settings and codecs, regardless of brand

Storage for up to 20 ISDN terminal adapter configurations for truly portable operation. Each configuration holds all SPID, ID and Switch type information for easy recall

Simple, intuitive menu operation

Four user-programmable 'Hot Keys' for one-button access to any function, including dialing

Universal power supply and ISDN terminal adapter. No need to change power supplies or ROM chips when taking your RoadRunner overseas

12 VDC auxiliary power input for truly portable operation

Remote controllable from any RS232 terminal or emulator

Software upgrades through any PC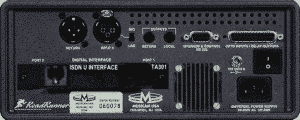 RoadRunner Technical Specifications
Mode:
Monaural, full duplex
Algorithms:
CCS MUSICAM, ISO/MPEG Layer 2, ISO/MPEG Layer 3, G.722
ISDN Bit Rates:
56, 64, 112 and 128 kb/s
Sample Rates:
16 kHz (G.722) 24, 32 and 48 kHz (Layer 2 and Layer 3)
Audio performance:
G.722, 56/64 kb/s:
MUSICAM 56/64 kb/s:


MUSICAM 112/128 kb/s:
MPEG Layer 3 56/64 kb/s:
MPEG Layer 3 112/128 kb/s:
20 Hz to 7.5 kHz, 66 dB SNR, 0.8% THD + N
20 Hz to 10 kHz at 24 kHz sampling
20 Hz to 8.2 kHz at 48 kHz sampling

20 Hz to 20 kHz at 48 kHz sampling
20 Hz to 15 kHz at 32 kHz sampling
20 Hz to 20 kHz at 48 kHz sampling

85 dB SNR, 0.01% THD+N except where noted
| | |
| --- | --- |
| Inputs: | 2 dedicated microphone, 1 switchable microphone/line. |
| Outputs: | 1 balanced, 1 unbalanced receive audio, 1 unbalanced send audio, 2 headphone |
| Microphone inputs: | Gain: 26 to 71 dB nominal. Balanced, 20 kOhm |
| Line input: | Gain: -12 to +11 dB nominal. Balanced, 600 Ohm or >20 kOhm |
| Line output: | 8 dBu nominal, balanced, 600 Ohm or <60 Ohm. 0 dB insertion gain. |
| Headphone output: | +12.5 dBu, 150 Ohm, separate send and receive level controls for each jack. Monaural feed to stereo connector. |
| Speed Dial System: | 256 entry directory with full configuration and number storage |
| Power requirements: | 90 to 250 VAC, 47 to 65 Hz or 12 VDC (nominal), 3.5 Amps |
| Dimensions: | 4.5" H x 11" W x 13" D (11.4 x 27.9 x 33 cm) |
| Net weight: | 9.4 pounds (4.3 kg) |
| Shipping weight: | 12 pounds (5.4 kg) |